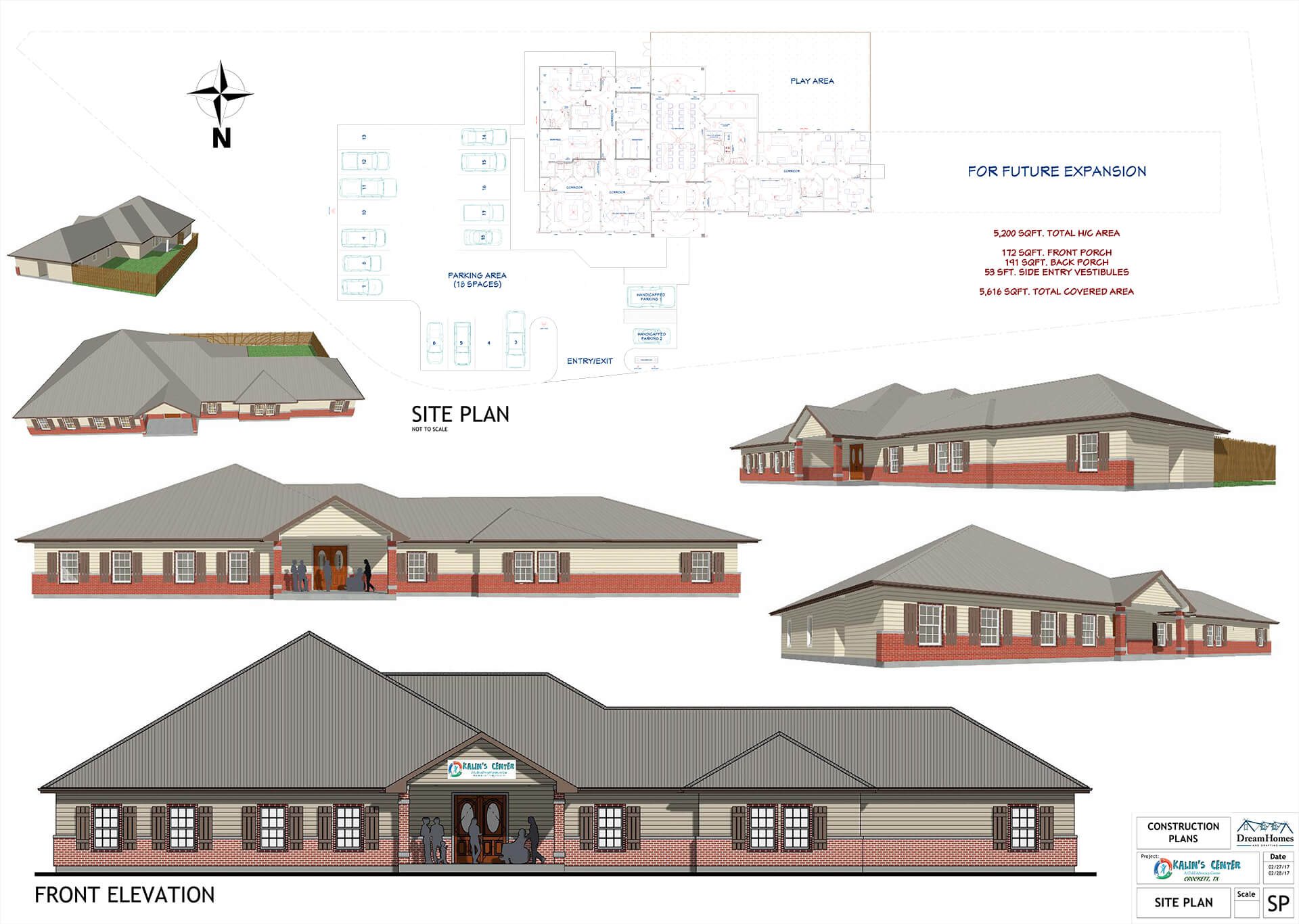 The Kalin's Center will have a new home in the near future with the help of The T.L.L. Temple Foundation, Mrs. Barbara Crow Beeler & G.W. Beeler lll.
The Kalins' Center, a Children's Advocacy Center which services both Houston & Trinity Counties, was awarded a grant from The T.L.L. Temple Foundation to build a new center. The property that the center will be built on was graciously donated by local friends and supporters of the Kalin's Center, Barbara Crow Beeler and G.W. Beeler the lll in memory of Dr. George Beeler II. The new center's address will be 201 Renaissance Way, Crockett, Texas, 75835.
The staff and board of directors are truly excited about fulfilling the dream of further expanding their services and abilities. "This has been a dream of mine for over 10 years to build a new, larger, more comprehensive building to house the Kalin's Center staff, as well as other members of our Partner Agencies.  This new facility will be a huge asset to our rural communities and will facilitate better investigations, services, and outcomes for the children and families we serve" stated Debbie McCall, Executive Director of the Kalin's Center.
The Kalin's Center provides a safe place for children, who have been victimized sexually and/or physically, to tell their story. This story is then used by law enforcement, the courts, and the defense attorneys to keep the children from having to repeat their personal tragedy. Kalin's Center goes a step further and offers counseling services to our young victims and non-offending family members. The counseling service is referred out at this time, but with the new center we will be able to provide the much needed service in house.
We have designed and communicated with each partner agency as to what they need when working these cases, which include offices, interview rooms, bedrooms, family rooms, counseling & play therapy, including a training area into our building design to facilitate these needs. This is a huge opportunity for Kalin's Center to bring all of these services to children under one roof. This will dramatically increase the ease of accessing services for the clients served and will also allow for daily, ongoing communication and cooperation between the Multi-Disciplinary team members.  Additionally, since this center is serving two rural communities where resources are often not available locally, without traveling to other counties or having significant delays in accessing services, families will be able to come to one place to complete forensic interviews of the children, interviews of the non- offending parents and family, as well as referrals and access to counseling services and SANE nurse/exams. These services are currently available, but in multiple locations, most requiring significant travel or time to access, causing hardships for families needing these services. Kalins Center will be a "one stop shop" for these families and will expedite the process for all parties involved.
We have also included in our plans for a bedroom to provide overnight accommodation as needed. Several times these children must be removed from their homes because, unfortunately, they reside with the perpetrator. The children will have a comfortable but private setting with a bed, access to a shower, kitchenette, washing machine and dryer, etc. There will be office space for staff who must be with them around the clock. Law enforcement will have an office to use at the new center. The assigned detective will be able to do interviews with parents and non-offending caregivers on site, enabling them to get valuable information that is needed for their investigations. At the new center, there will be a training room for the Kalin's Center that other organizations will be able to utilize for education and training purposes.
Not only is Houston & Trinity County benefiting from the new center, our surrounding counties will be able to utilize the services, as well. Kalin's Center's goal is to help children understand and believe that abuse is not okay and that abuse is not their fault. Staff is continually working to educate and teach our communities to understand that abuse must be stopped.
Local Crockett Police Chief and Kalin's Center Board Member, Chief David Cross had the following to say about the new center. "Crockett PD investigates numerous cases of physical and sexual abuse of children each year and relies heavily on Kalin's Center for assistance with these cases. Detectives have to take victims of sexual abuse to our local child advocacy center for forensic interviews and then have to take them to Lufkin for sexual assault exams at another CAC that offers that service. With our new center we will be able to get both of these required investigative services done locally thus making the victim more comfortable and making the experience less traumatic for the victim and their families.  Detectives will be able to get expedited investigative analysis from these interviews and exams being locally done thus allowing us to complete our investigations in a timelier manner. We are grateful for these services to be provided locally and expect surrounding law enforcement agencies to utilize the facility more when they see what services are being offered."
Trinity County District Attorney and Kalin's Center Board Member, Bennie Schiro shared the following, "I am excited about the new center because it will help ease this most difficult time in a child's life.  We will be able to provide all the needed services including the interviewing, medical and counseling in one area.  Unfortunately, it is an ongoing process with us and the children who suffer abuse.  The familiarity with the Kalin's center and their staff will help begin the healing process."